I am looking for information as
Cyprus
BBMRI.cy
Cyprus (Observer)
Contact: cstylianou@mphs.moh.gov.cy

Biobank website: http://www.ucy.ac.cy/cybiobank/en/

Medicine Research Center website: http://www.ucy.ac.cy/mmrc/en/

CY Biobank
Cyprus recently started the first Biobank in the country, at the University of Cyprus. Still in its infancy, it is trying to secure funding to expand its activities and capacities and reach European standards. It recently became Observer at BBMRI-ERIC with the ambition to constitute a significant node and contribute to European Biobanking and benefit from participation in the largest family of Biobanks in Europe. Research in Cyprus has a history of only 25 years but with substantial progress in the various fields of human molecular and medical genetics. However, a lot more needs to be done.
The main goals are to:
Set the stage and prepare the legal statuses for creating the Cyprus National Node, BBMRI.cy.
Establish a strong Biobank with optimal operational conditions harmonized with BBMRI-ERIC standards and norms
Integrate into the medical community and the public, demonstrating respect to ethical, legal and social implications, in order to facilitate patient and healthy donor recruitment for present and future research in monogenic and complex disorders
Enhance the Biobank's capacities in order to enable research in many more areas and diseases that remain neglected, while taking advantage of unique genetic phenomena of the Cypriot gene pool
Reach a level of maturity that will lead to wider visibility and exploitation of the Biobanked material by local and foreign researchers
CING – Cyprus
The scientific participation of CING is fully supported by the Ministry of Health of Cyprus.  The Ministry is working to organize and appoint a National Coordinator of the Cyprus Biobank Node, which will oversee and co-ordinate the Biobank activities of the local Cyprus Biobanks. CING established its own Biobank in 2012, in order both to support its research/ academic activities, as well as to maintain the delivery of a high standard of its specialized services to patients.
The main goals are to:
Develop, streamline and harmonize Biobanking activities in Cyprus in line with BBMRI-ERIC
Serve as a strong link with BBMRI-ERIC and strengthen and consolidate CING Biobanking activities with other Cypriot national stakeholders
Facilitate the execution and operation of population programs and promote optimal clinical Biobanking activities
Integrate the Biobank activities at CING and other National Collaborating Stakeholders into the BBMRI-ERIC framework
Provide ethical and legal services to the national Biobank stakeholders
Promote public awareness of the importance of Biobanking in Biomedical research, towards personalized medicine and better understanding of etiology
Provide a voice to patients and advocacy associations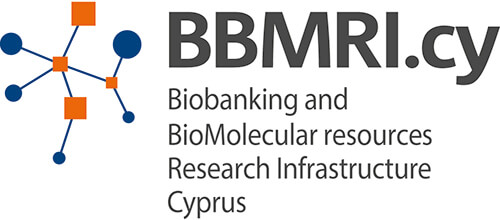 We use cookies to analyse the traffic on our websites. All personal data is anonymized and not shared with third parties!
Click here
for more information.
Accept