I am looking for information as
What is the BBMRI-ERIC Stakeholder Forum?
The BBMRI-ERIC Stakeholder Forum is the main interface for European patients' organisations, civil society, industry and academia to interact with the biobanking universe. It is an integral part of BBMRI's governance and culture.
Through the Stakeholder Forum, we want to build a sustainable, egalitarian relationship between the biobank community and its stakeholders. The objective is to increase each other's awareness of needs and expectations on key issues related to biobanking, such as data protection, informed consent in health research, health research priorities, and other ethical, legal and societal issues (ELSI).
The role of stakeholders is enshrined in the BBMRI-ERIC statutes: as one of the advisory boards, the Stakeholder Forum contributes to the decision-making process of BBMRI-ERIC, together with the Scientific and Ethical Advisory Board (SEAB).
Stakeholders have been involved in BBMRI-ERIC since the very inception of BBMRI-ERIC back in 2009. Read the first report here.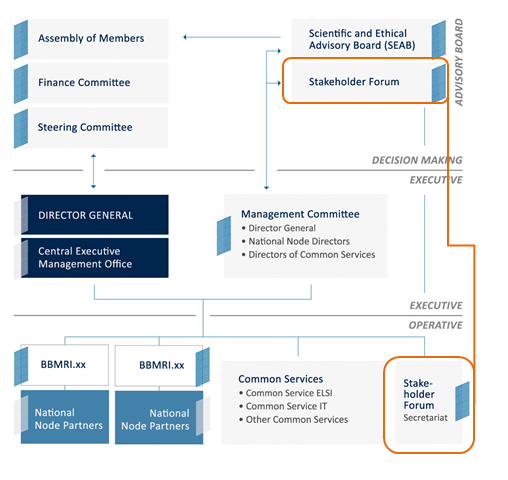 Stakeholder Forum Patient Pillar
Patients' organisations already working on biobanking issues have shown a long-standing interest in BBMRI-ERIC and have contributed to the development of the research infrastructure. For 2021-2022 the strategic aims of the Patient Pillar will have three themes: pediatric biobanking, cancer research, and Trusted Research Environments for sharing patient/donor-related data.  All three themes support wider pan-European projects and initiatives, and all three reflect interests and concerns of patients and patient organisations.
Planned activities in 2021:
Stakeholder Forum Patient Pillar Members
The secretariat has recently been renewed. The Stakeholder Forum is taking advantage of that change to improve and confirm the engagement of all actors. The process will develop impetus as the biobanking and research community moves forward beyond the pandemic.  The current list of Members will be updated by the end of September 2021 and membership rules refreshed and revised in autumn.

Stakeholder Forum Secretariat
The Secretariat of the Stakeholder Forum supports and coordinates the work of the Forum and connects it directly to the BBMRI-ERIC decision-making process.



We use cookies to analyse the traffic on our websites. All personal data is anonymized and not shared with third parties!

Click here

for more information.

Accept