BBMRI-ERIC CS IT Key Services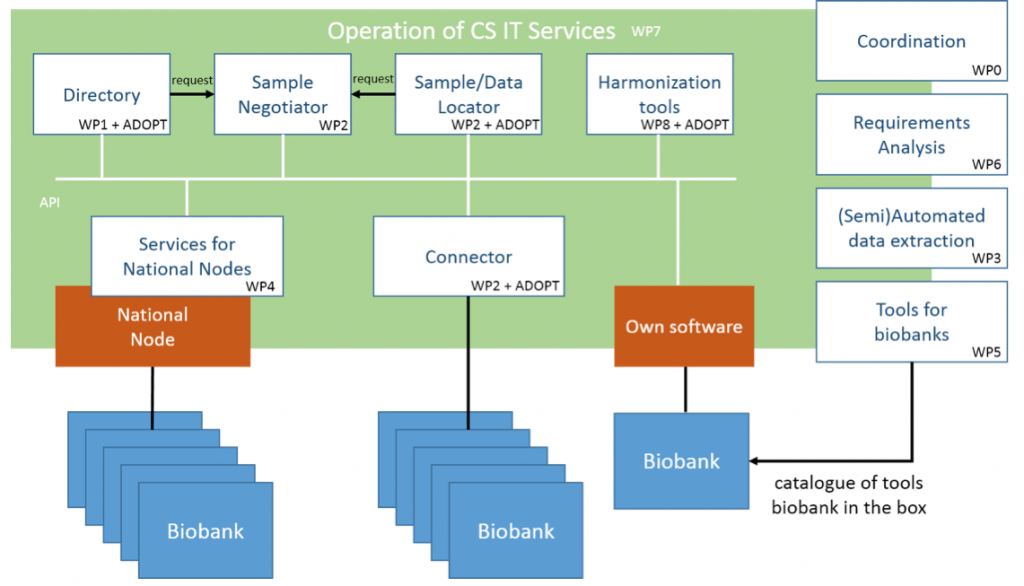 Directory is a metadata and public data information service with aggregated information about biobanks, their sample and data collections, as well as additional services. First two versions of the Directory has been developed jointly by the BBMRI-ERIC IT community before start of the CS IT: Directory 1.0 was released in July 2015 and Directory 2.0 covering 515 biobanks with more than 60,000,000 samples was released in December 2015 as a deliverable of ADOPT project. Responsibility for the development and operations of Directory has been handed over to the CS IT after it has been launched.
contact: David van Enckevort
Sample/Data Negotiator and Locator will be services to allow for negotiating access of the requesters to samples and data sets hosted by the biobanks and to locate sample and data sets of interest for the requesters. Negotiator focuses on making the communication of many requesters with many biobanks as efficient as possible. Locator will allow for detailed privacy-preserving multi-criteria search of samples and data sets, while also respecting the degree of control required by the biobank infrastructure operators. This will also include development of connectors to interface to the information systems of biobanks.
contact: Frank Ückert
Services for National Nodes and Tools for Biobanks  provides  services, e.g.  required interface tools  for the Sample Locator and Directory Service for national nodes. In the BiobankApps tool catalogue, both commercial and open source software solutions related to the biobanking domain are classified and evaluated. The evaluation covers: 1) "user review" by an authenticated user 2) domain expert: quick analysis by BBMRI members and 3) domain expert: detailed analysis and test installation with real world data. Selected tools are available as "Apps" (technically this is achieved by docker containers) ready to be installed in a virtual machine.  A first demo version of the "biobank in a box" framework can be found at demo.bibbox.org.
contact:  Heimo Müller
Data harmonization tools will be middleware services that provide ontology registries and translation tools to be used by other BBMRI-ERIC IT services and possibly also external services in the future. These tools are the response to the heterogeneity of standards in medical informatics (e.g., various clinical ontologies such as ICD-10 and SNOMED CT) used across Europe as well as beyond it.
contact:  Kaisa Silander